Earth-Speak Conversations
$75.00
Earth-Speak Conversations are monthly webinars designed to engage us with the Soul of the World. For twenty-five years, I've been dedicated to listening to Gaia, primarily through the plant kingdom and mostly by myself. My intention now is to listen together in sacred space, to co-create community that consciously includes all creation.
The veil between the World Soul and human consciousness is becoming increasingly thin. Covid has forced us to slow down, to stop living in habitual ways and to pay attention to Life. Though we may experience this through slippage in time, disturbed sleep patterns, shifting anxieties and a variety of unusual physical symptoms, there are also many signs of hope, new vision, and increased synchronicities sprouting everywhere.
We are designed to hear and resonate with the Earth's ancient voice, to embody her wisdom and life-affirming impulses. Deep listening implies obedience. The word 'listen' comes from the Latin word ob audiere, to obey. ("ob-"  means toward; "audire" means to listen.) We learn to obey Nature's laws by tuning our ears to the spirit of the Earth.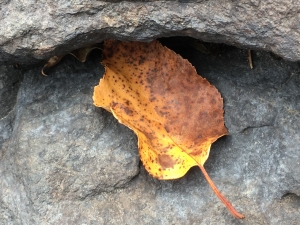 The purpose of these conversations is to invite our inborn resonance with Gaia to help us move beyond belief into knowing, by opening to Earth's wisdom ringing true in our bones. As we learn to trust what we feel and hear within our hearts as we listen, we can begin to discern what is pressing to express itself through us in response. This is the nature of the intimate earth-human conversation we are designed to experience.
Format: The sessions begin with meditative time to center ourselves and ground our energies into the earth. In the co-creative space, our magnetic listening, to each other and to the Earth's spirit, invites a spacious receptivity for what wants to emerge. With slideshow images, poetry,  journalling time and small-group discussion in break-out rooms, the conversations become a form of dynamic ritual. Spontaneous movement and sounding is sometimes part of the experience. Our focus is to welcome the Earth's voice and consciously participate in Her expression.
Between gatherings: Each week, you will receive an email with links to writings, short films or podcasts that resonate with the themes we are exploring. Participants are invited to share questions, experiences or dreams as part of our collective experience. Occasional assignments for deep listening and/or soulful expression encourage your active role in these conversations.
Dates: Wednesday afternoons: October 20 (a full moon), November 17, and December 15. Time: 1:00 – 2:30 p.m. EST.
The final three Earth-Speak Conversations, held from October to December, will only be open to those who have participated in at least one of the previous series in 2021.
Cost: $75 for the series. 
Description