The New Year 2023 Essence: A New Earth IS Being Born
$18.00 – $32.00
Last year's 2022's Essence began with: The tide has turned as the Earth reclaims her sovereignty. To us as human beings, this feels like a time of great darkness and unprecedented uncertainty.
This year tells a very different story…
A New Earth is being born. We are part of the profound change that is unfolding. In reality, the New Earth is being born within and through us. With few external signs, we feel this process — the emergent light within matter, stirring in our hearts and quickening our body-souls with humming possibilities. How are we to embrace such a profound and unprecedented process?
Conscious destiny begins with a visceral sensation and awareness of being intimately entangled with Life, with the Soul of the World. This feeling of wholeness and possibility is our birthright, yet, to actively participate in our destiny… that which was banished must return. Reclaiming what was lost, stolen or given away, our true sovereignty as human beings must be restored.
As cellular memories of our inner beauty and natural joy, our truth and fire-energy are retrieved, we come into pulsing agreement with Life. In this precarious time, our role as co-creative magicians is simple — to allow our body-souls to be fully occupied with the dynamic power of Love.
Opening and surrendering to Nature's healing energies, we witness the turmoil in the world and recognize that…Everything that was banished IS returning. In this numinous time, we diligently maintain an inner repose to nurture and protect the Life that is swelling within us.
The combination includes: Black Walnut, Forget-me-not, Passion Flower, Winter Aconite, Red Climber, Rugosa Alba, Sacred Threads of Connection, Embracing Destiny's Joy, Building the Charge, Becoming the Medicine and Restoring the Earth's Song.
Gaia's Message to Humanity as we enter 2023:
You are built to tremble with me.
Stand in your tree-like stature
and let me shudder through you.
Loose me through your voice,
a soft or mighty roar,
and hold steady while the old walls crumble.
The New Year 2023 essence comes in an organza bag with a small booklet including the definition, the Gaia poem and several questions to ponder. I'm also offering a separate handout with the definitions of all the essences in the combination. Highlighting the phrases that resonate with your journey will help you appreciate and integrate the varied energies.
Description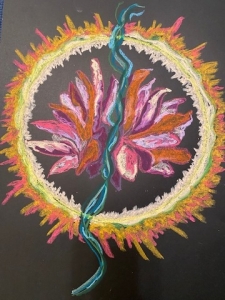 Additional information
| | |
| --- | --- |
| Weight | 0.098 kg |
| Dimensions | 31 × 21 × 3 cm |
| Size | 1/2 Ounce Bottle, 1 Ounce Bottle |